In the market for a credit card? Check out our credit card matrix before you decide
What's the best credit card for you? Chances are it's not the one (or ones) in your wallet.
We Kiwis are terrible at trying to justify our credit card choices. We come up with all sorts of 'facts' to confirm our poor decision. If you have an open mind, however, and navigate the complex matrix that is credit card choice, you are the one who will reap the rewards.
When it comes to the matrix of credit card choice, the main variables are:
Are you a big-spending regular user or a low-spending user?
Do you pay off the balance or do you pay off the minimum and keep spending?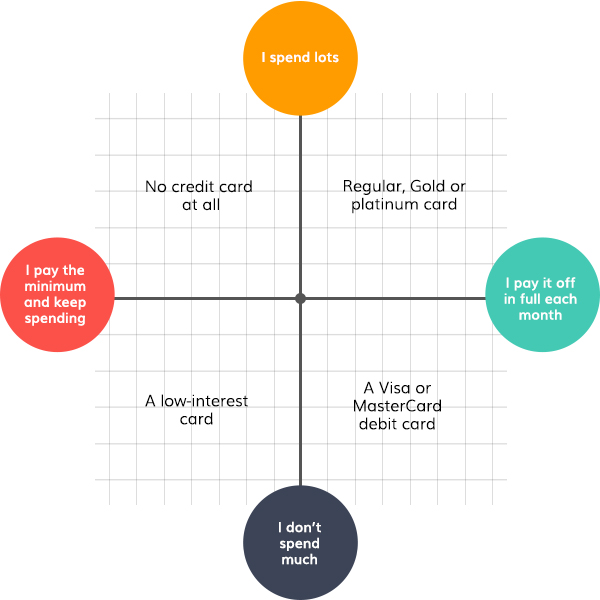 Then you need to start by choosing between these four main options:
No credit card at all
Radical as this might sound, cutting up your cards makes it an awful lot harder to make poor spending choices. The no credit card Back to the Future approach to budgeting is to withdraw cash, split it between envelopes and once it's gone is gone until next payday. Budget advisers recommend this approach.
A Visa or MasterCard debit card
These are like EFTPOS cards because you can only use them to spend money from your current account (or your overdraft). The Visa or MasterCard logo allow you to buy goods online with them. If you're someone who can't control spending on credit or you don't qualify for a regular credit card these are a good choice.
A low-interest card
If you run a balance each month then you're blowing a lot of money in interest payments and should choose a low rate card. If you've built up a balance, but are keen to knock it on the head, consider doing a balance transfer. This allows you to move your debt to a new lender for a low or zero introductory rate. But beware that new spending accrues interest.
Regular, Gold or platinum card
These cards charge higher interest, but offer more perks. They're best suited to people who pay their balance off in full each month.
The 'nice to haves'
The credit card matrix gets more complex when you consider which bells and whistles suit your individual circumstances. They include:
Interest-free days
If you buy large items with your credit card, but know you can pay them off before your next statement is due for payment, then 44 or 55 days before interest payments start accruing may be useful for you.
Rewards points cards
If you're a clever clogs who pays your balance off in full each and every month then consider getting a rewards points style card. Every dollar you spend adds to your tally of points, Fly Buys, or air miles. But do the maths. If every dollar is worth 2c in points or 1c in air miles, or vice versa, take the higher rewarding option. If you carry a balance and pay interest, even once a year, rewards points aren't worth it. If you must have a rewards card, set up a direct debit to pay your balance in full each month to make sure you milk the full value from the points.
Travel insurance
Gold and platinum cards often have travel insurance attached that in some cases is quite comprehensive. "Free" travel insurance is only a perk, however, if you actually travel overseas and you have read and understood both the rules around activating your insurance and the terms and conditions.
Purchase protection, extended warranties, and roadside breakdown assistance
Some of the more exclusive cards offer 90 days insurance against loss, theft or damage for new items you purchased with the card. They may also offer extended warranties on items you buy with the card. And some cards offer 24/7 roadside service. All three of these perks are only worth it if you don't already have cover for them. A lot of people already have breakdown cover, for example, through the AA or your motor vehicle insurer.
Airport lounge passes
A handful of cards offer access to Air New Zealand or Priority Pass airport lounges. It's important to do the maths because you might be better off having a different type of credit card and paying for lounge membership or one-off visits.
Concierge services
Platinum cards often offer a 'concierge desk' staffed by people who can do anything from finding you a sparky in the middle of the night when your heating dies to booking tickets to a sold-out event. Time-poor people can benefit from this service.
Finally, when you sign up for your perfect plastic fantastic credit card, remember to review the decision once a year. New cards become available all the time and sometimes the benefits on existing cards are downgraded.
The information in this blog post is general in nature and does not constitute personal financial or professional advice. It is not intended to address the circumstances of any particular individual. We do not guarantee the accuracy and completeness of the information and you should not rely on it. Before making any decisions, it is important for you to consider your personal situation, make independent enquiries and seek appropriate tax, legal and other professional advice.